By Susie Coston, National Shelter Director
On the night of June 8, a semi-trailer truck crashed through a guardrail and tumbled down a ravine near Xenia, Ohio. On board the trailer were 2,200 piglets.
Between 300 and 400 of the piglets were killed on impact or so badly injured that they later had to be humanely euthanized by responders. Approximately 1,500 of the survivors were quickly captured and brought to a nearby fairground to be held until a second truck arrived the next morning to bring them to their original destination. That left an unknown number of piglets loose somewhere in the surrounding woods.
The Search
Farm Sanctuary was alerted to the accident the night it happened. National Farm Animal Placement Coordinator Alicia Pell immediately began contacting local authorities for information and to offer Farm Sanctuary's help. She eventually learned that no one had kept an accurate count of the fatalities or of the live piglets who had been picked up by the trucking company. This meant no one knew how many piglets had disappeared into the woods. One estimate by local authorities put the number at 200.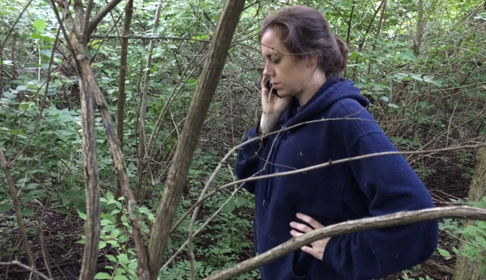 The Ohio Department of Natural Resources (OHDNR) took charge of the search. The trucking company had relinquished custody of any remaining piglets after it picked up those at the fairground, counting the missing ones as an economic loss. The OHDNR informed us that any survivors would be free to go to sanctuary. With that assurance, we mobilized a rescue team.
The team arrived in Ohio the second morning after the crash. Five staff members had driven from our New York Shelter with a trailer, traveling all night to arrive as soon as possible; meanwhile, Alicia and a staff member from the Southern California shelter had flown in from the L.A. area. The team spent the next two days searching in coordination with the OHDNR and a number of volunteers who showed up to help.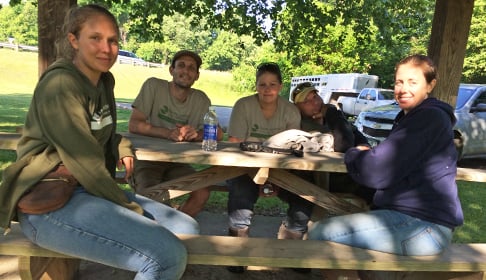 After two days of searching, the rescue team had found no piglets. The search area was vast, and the forest was dense with undergrowth. Searchers could have walked within a few feet of a piglet and not seen him or her. Nonetheless, we concluded that the guess of 200 loose piglets was likely incorrect; the OHDNR estimates that there might be a dozen at most. We also concluded that the only effective way to find any survivors would be through a comprehensive search similar to the kind mobilized for human children missing in the woods, with dozens or more people combing the search area simultaneously. The authorities would not or could not launch such a search with their own manpower and would not allow such large numbers of volunteers into the area. Continue reading