By Susie Coston, National Shelter Director
Farm Sanctuary operates the largest farm-animal rescue and refuge network in North America. The Farm Animal Adoption Network (FAAN) encompasses hundreds of individual adopters, as well as fellow rescue and shelter groups, and has a presence in nearly every U.S. state.
Providing wonderful, lifelong homes, the network allows us to make space at our shelters for new arrivals and also to undertake large-scale operations like last year's rescue of more than 300 "spent" egg-laying hens. FAAN is an impressive example of what we can do when work together.
An animal rescued by Farm Sanctuary has sanctuary for life. Here's are five things that set our Farm Animal Adoption Network apart:
1. We put farm animals first.
Because the animals we rescue are viewed by most people as food sources, we must be especially careful that they don't fall into the wrong hands. We don't advertise on sites like Craigslist or Petfinder. Nor do we advertise at feed stores or anywhere else where these animals might be associated with food production. We screen adopters thoroughly to be sure they are both committed to and capable of providing excellent, lifelong care.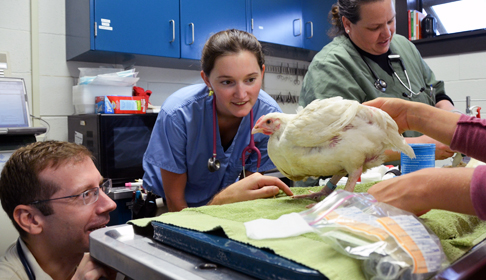 We also never promote our animals by referring to qualities that could be exploited, like egg-laying for ducks, geese, and hens or "lawn-mowing" and brush removal for goats and sheep. Doing so might bring in more applicants, but they would be applicants who see these animals as a means to some end. These animals suffered in exploitative circumstances before their rescue, and they never will again. We insist that adopters treat their adopted animals as companions.
2. Health matters.
The FAAN application process involves a review of the housing and outdoor areas to be provided to the adopted animals, as well as personal and veterinary references.
Because the animals we rescue often face health complications due to industrial breeding and raising practices, we insist that adopters have access to appropriate veterinary services. Chickens bred for egg production, for instance, are prone to a slew of reproductive-tract ailments, from blockages to cancer. Though we adopt out only the healthiest of the chickens we rescue, access to expert care and treatment is still crucial for all the adoptees. Part of the process of adopting these special-needs animals into homes is teaching adopters how to care for them.
3. We go the distance.
We transport animals to their adoptive homes ourselves. This not only ensures that the journey is safe and comfortable for the animals but also allows us to evaluate their new homes in person.
We'll bring animals to the homes that are best for them, even if those homes are hundreds of miles away. Take, for example, the four pigs we recently transported from our New York Shelter all the way to a shelter in Florida.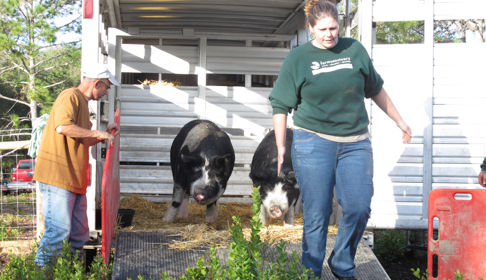 Our many long-distance and interstate adoptions require careful preparations. Out-of-state adoptions also require testing and health certificates for specific diseases, which vary by destination state. Following these laws is imperative for the safety of the animals, since animals transported illegally can be confiscated and destroyed for testing.
4. We follow up.
Though adopted animals are living outside our shelters, they're still part of the Farm Sanctuary family. Placement Coordinator Alicia Pell checks in with new adopters to make sure everything is going smoothly, and with the help of National Shelter Director Susie Coston, she regularly fields questions from adopters new and old about healthcare, behavior, and resources.
Many adopters have come to the sanctuary to learn even more about basic healthcare for their new family members, and many have attended our Farm Animal Care Conference, offered every September.
5. We realize not every animal should be adopted.
Our rescued animals are survivors of abuse and neglect, which can leave them with persistent health challenges, or even special emotional needs, for the rest of their lives. For some, these difficulties require the sort of accommodations, monitoring, and care that can be provided only at our shelters .
No sanctuary can make a sizeable dent in the number of farm animals slaughtered in this country, which is now over nine billion per year. What we can do is give wonderful lives to the animals we are able to save and do so by treating them as we would our own companion animals- as an individual. Each is important in his or her own right, as an ambassador and a thinking, feeling individual.
Care to learn more about home adoption? Farm Sanctuary is always on the lookout for great adopters. We're happy to help you figure out what sort of adoption is right for you and what you need to do to get ready. Visit our adoption page for more info or to fill out an application.