By Susie Coston, National Shelter Director
The first time I saw Alexander was at a central New York stockyard, on a bitterly cold day just before Christmas 2010. There were 300 newborn dairy calves on sale that day. Confused, terrified babies wailed for their mothers, and adult cows called back, all separated and unable to comfort each other. I was hoping for the chance to save a calf who had collapsed on the loading dock before even making it to the auction floor, but I was told I had to wait for the sale to end in case he stood up and could be auctioned off with the others. During the calf sale, the auctioneer offered me a second calf who was so small that no one would bid on him. Then there was another calf, a big guy, who received no bids because he was wobbling, falling down, and rolling his fetlocks. He was offered to me as well. That was Alexander.
Rough Start
I had expected to rescue only one calf, but at the end of the day I had three sick babies in the back of the shelter's CRV. Exhausted, the boys slept as I rushed them to Cornell University Hospital for Animals.
When we arrived, the hospital staff ran blood work. Lawrence, the calf who had collapsed on the loading dock, was in renal failure. Blitzen, the tiny one, had pneumonia. Alexander, nicknamed Goliath by the staff because he was so large, was septic. His umbilicus had not been properly cleaned, and he had not received enough, or any, of the immunity-boosting colostrum his mother's milk would have provided. Together, these circumstances resulted in an infection that spread to his left stifle, which is the joint that connects the femur, patella, and tibia.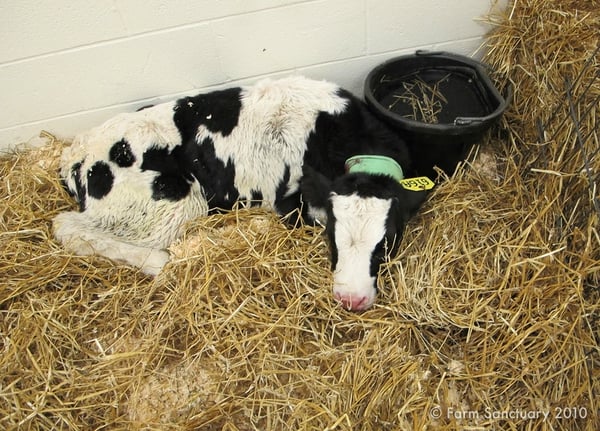 Though Alexander was started on treatment immediately, he contracted severe septic arthritis. He had to stay at the hospital for 48 days, undergoing multiple surgeries. He left with a guarded prognosis: though he was healthy at the time of discharge, his vets believed that his legs would break down as he grew. Continue reading