"Escaped Cow Still on the Loose!"; "The World's Fastest Cow!"; "Cow Becomes Local Hero!"; "Cow to Get Key to the City!" These are just a few of the news headlines that a snow white Charolais cow inspired in 2002 when she took a courageous leap of faith, cleared a 6-foot-high fence at a Cincinnati, Ohio slaughterhouse, and engaged citizens in a dramatic 11-day chase that gained national attention and still has people talking today.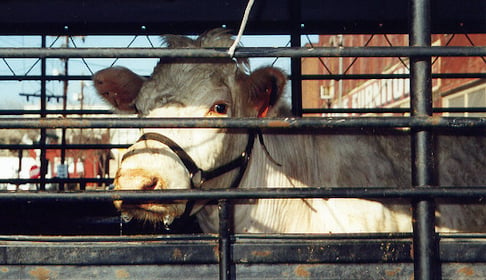 As she resisted capture time and again, staying hidden in a park where she foraged and rested when she could, the courageous cow demonstrated an unbendable will, and her tremendous fight for survival resonated with the public. By the time of her capture, she had won the hearts of so many that calls for mercy poured into the city from all over the country. In the end, it was a plea from renowned artist Peter Max that brought the brave bovine safely to our New York Shelter, where she was named Cincinnati Freedom and given the liberty she always deserved.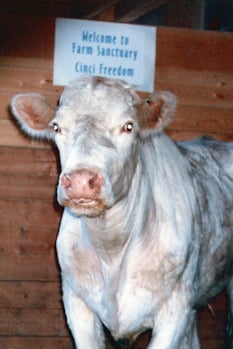 Though one of our most elusive residents, choosing the company of cattle over people, Cinci nonetheless received countless visitors through the years, each one eager to catch a glimpse of the valiant cow they followed in the news. While sanctuary guests were unable to touch her, everyone who saw her was affected by Cinci all the same, as even her posture and gaze spoke of the intense life force burning within her and an acute awareness of the special place she inhabited in the world. Most were awed in Cinci's presence, as she was a living testament to the desire for life we — human or animal — all share.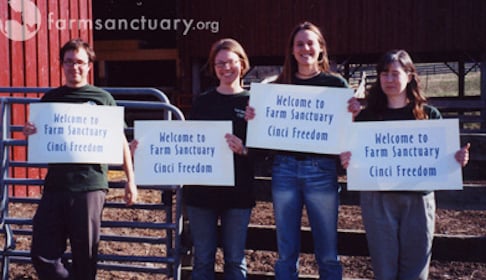 Cinci's effect on members of the cattle herd was equally profound. Forming a natural bond with other famous slaughterhouse escapees who came to the shelter before and after her (including Queenie, Annie Dodge, and Maxine), Cinci traveled with her strong, faithful female companions as an inseparable unit — the members of which moved gracefully and intuitively together as if all were of one body and one mind. But her spirit breathed life into the entire cattle herd, as well. While Cinci preferred that we humans keep a respectful distance, she connected with every cow and steer, treating each of them with the utmost tenderness and love. Continue reading