By Susie Coston, National Shelter Director
Too many people have misconceptions about turkeys. They assume these animals are unintelligent, unsociable, and undifferentiated. Some visitors come to the shelter not expecting to connect with the turkeys. Again and again, Turpentine walked up to those visitors and calmly demolished all of their assumptions.
That was the power of Turpentine's personality. In fact, his gregariousness once saved his life. Before coming to Farm Sanctuary, Turpentine lived on a farm, where he was being raised for Thanksgiving dinner. As luck would have it, a Farm Sanctuary supporter lived next door. The turkey and his neighbor became friends, and every day when she called out Turpentine's name, he would gobble back to her. The farmer, won over by this amazing boy himself, could not go through with his original plan to kill Turpentine. He decided to give him to another farmer to slaughter, but thankfully his neighbor convinced him to give Turpentine to her instead. She reached out to us, and we gladly welcomed the friendly turkey to our New York Shelter.
Turpentine may have thought we'd given him the shelter. He had soon familiarized himself with the grounds and begun keeping tabs on all the most interesting action. He followed caregivers. He followed interns. He followed visitors. And he chose his friends. He picked out people, many he had never met before, and clearly made a connection with them. He spent most of one Celebration for the Turkeys event in the lap of a man named Carlos, visiting from Canada.
Nearly anyone who spent time at the shelter had the experience of looking back and seeing Turpentine behind them. He trailed caregivers and guests everywhere, even one time ducking under a gate and following a tour group up the hill to the main cattle herd. We constantly had to walk him back to his barn to keep him from wearing himself out.
Turpentine clearly loved attention, and we soon realized he loved the camera even more. If there was a person or a lens nearby, he would be sure to show up. He was always trying to get in front of whatever he though was receiving attention, from people posing for a photo to a baby goat nursing. He photo-bombed. A lot.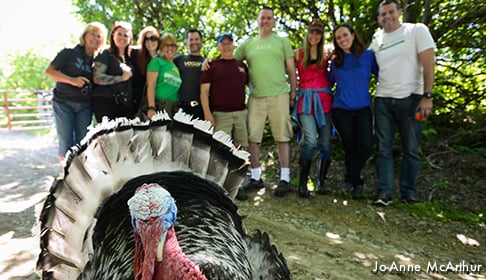 The camera loved him right back, and so did we. He was a part of daily life at the shelter, and his presence was felt everywhere. Today, his absence is felt, deeply.
A short while ago, we noticed a small abscess lump on Turpentine's chest. When it started getting bigger, we took our boy to the vet. An ultrasound revealed the extent of the mass, and we scheduled a surgery to have it removed. The decision was not made lightly; we weighed the pros and cons carefully.
The surgery thankfully went well, but a second surgery was needed. While waking up from the anesthesia after the second operation, Turpentine suffered a heart attack. Heart problems are a common blight of domestic turkeys, who have been bred to grow rapidly to an excessive weight. Even with expert care in a sanctuary setting, these birds remain vulnerable to cardiovascular ailments. Often large industrial breed male turkeys in a basic squabble over territory suffer from heart attacks, so sadly this is not uncommon.
We brought Turpentine back to the shelter to recover. Caregivers provided daily cleaning and wrapping for his operation site — and of course all the love and attention he could want. He seemed to be doing well, spending time outside each day, enjoying life. But on Sunday night something went wrong, and Turpentine suddenly died. He passed quickly and without suffering. The cause was most likely his heart.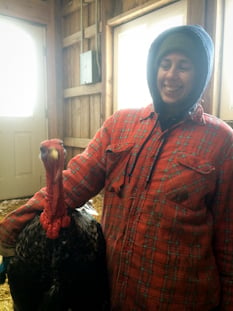 Back in 2013, we shared some very important facts about Turpentine on the Farm Sanctuary Facebook page: 1) he'll follow you around until he is sure you have seen how beautiful and awesome he is, 2) he likes his reflection in the window at the Melrose Small Animal Hospital, and 3) he chooses a select few people who can pet him. Turpentine had his own Facebook page, too, with more than 800 fans. It was plastered with photos featuring our special guy, typically in front of, next to, or right in the middle of a group of humans delighted that he had made himself the star of their shot.
That was thing about Turpentine. No matter who you were, he made himself a part of your story. But of course, really, you were a part of his. Everything about him expressed his sense of self. You could see his pride, his joy in his own life and home, his fascination with people. He gave such an impression of a mind at work, a fellow intelligence.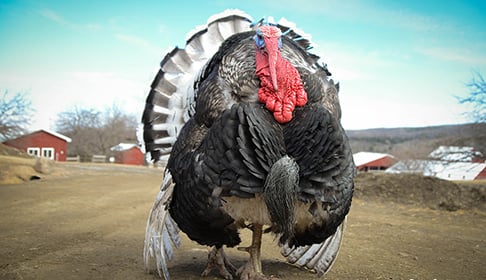 At Farm Sanctuary, we work to help invisible animals, the billions who die every year unnamed and unknown. The only difference between Turpentine and those billions was that he had the chance to show people who he was. Turpentine insisted on being known.
His charisma made him an outstanding ambassador for turkeys and a great friend too, and he left a trail of grinning humans wherever he went. Turpentine made sure you couldn't ignore him. And looking back through the pictures now, I can almost imagine that, with every photo-bomb strut into the frame of someone's captured moment, he was making sure none of us could ever forget him.