By Susie Coston, National Shelter Director
This is the story of Gabby, Xena, and Hercules, three little piglets who escaped the fate of one hundred million pigs slaughtered annually. They additionally escaped the lot of other pigs who are more intensely confined for breeding each year.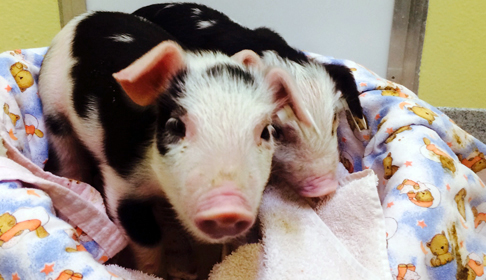 Gabby, Xena, and Hercules' collective story could have followed the typical course. That version goes like this: Three piglets and their two siblings were born on a ranch. At the ranch — as at any facility, large or small, where animals are raised for meat, milk, eggs, or fibers — the animals were valued only in terms of the profits they would yield, and individualized healthcare wasn't offered. Thus, when it happened that the piglets' mother "dried up" and was unable to nurse them, the rancher did nothing to help. Keeping the piglets alive would have cost more time and money than he felt they were worth. All five piglets died of starvation. Versions of this story unfold at farms and ranches and industrial pork facilities all over the country, all the time. But that's not how this story goes.
Instead, the piglets' plight was discovered by a woman named Darci Feigel, who worked hard for three weeks attempting to nurse the five of them back to health. Sadly, two of the piglets were too far gone and, despite Darci's best efforts, they passed away. The remaining three, however, rallied. These little piglets now had a chance to live and a caring rescuer on their side.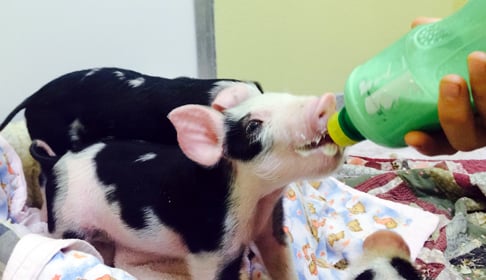 Darci knew she wouldn't have space for three grown farm pigs at her small sanctuary. Searching for a permanent home, she got in touch with Farm Sanctuary. Though we didn't have room for any new pigs at our own shelters, we were able to find placement through our network. Pasado's Safe Haven in Monroe, WA, offered lifelong sanctuary to all three piglets.
We've transported many pigs over our years of rescue work (and seem to be on a roll), so we knew just what to do to help these piglets along. We guided Darci through the process of obtaining Certificates of Veterinary Inspection, which are necessary for transporting pigs across state lines. When the piglets were ready to go, National Placement Coordinator Alicia Pell drove up from our shelter in Acton, CA, to chauffeur the VIPs north to Pasado's.
After picking up the trio from Darci, Alicia traveled on to our shelter in Orland, CA, where she and her passengers spent the night. The next day, she drove the 12 hours to Pasado's, where Gabby, Xena, and Hercules were unloaded into their own room at the shelter's Healing Center.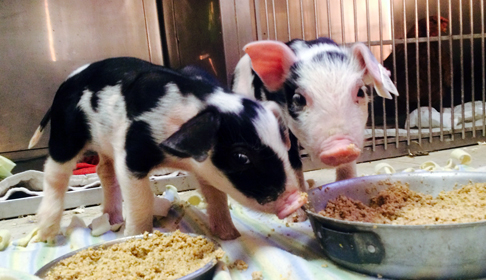 On the way, Alicia got to know this trio a little. Xena is somewhat timid and shy. Hercules, the biggest, and the only boy, was a little bossy with his sisters when it came to sharing the solid food they received in addition to their bottles. Gabby, the smallest of the three, is a feisty and hungry gal. During bottle feedings, she demanded to be fed first.
These are just the first sketches of the rich personalities and complex relationships these pigs will grow into as they establish themselves in their new home. They have so much living and discovering ahead.
The story of these three piglets could have ended abruptly and painfully on a California ranch, extinguished as a rancher with only the bottom line on his mind ignored their dwindling lives. Instead their story stretched all the way up the coast, bringing together a string of rescuers, creating new connections and enriching old ones. Now there will be so much more to their stories, so many more experiences and much more time to enjoy them.
The story of Gabby, Xena, and Hercules is just beginning. We're a part of it, and so are Darci, and Pasado's Safe Haven, and all the people who will meet these pigs there. And you.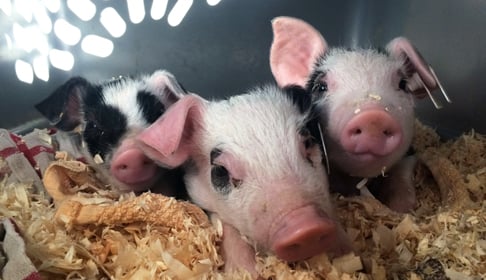 Farm Sanctuary runs the largest rescue and refuge network in North America. It is a network of caregivers and physical resources that connects animals with help and homes. And it is also a network of concern — of witness — that connects their journey with thousands of readers. Through this community of rescuers, adopters, and supporters, we give new life not only to their animals but also to their stories, which have the power to help so many more. You are part of this network. You help us give life to these stories. Please pass them on.