By Bruce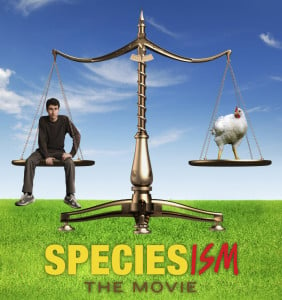 Every now and then a movie comes along that has the power to fundamentally change the worldview of its audience. Speciesism: The Movie, a documentary directed by Mark Devries, is that kind of film. It premieres in key cities next month.
The word "speciesism," which has been popularized by Princeton bioethicist Peter Singer, refers to the assumption that a vast gulf exists between the value of human interests and the value of the interests of all other animals.
Speciesism is, of course, a fundamental principle of human life, as humans view most other animals not as individuals, but as sources of food, clothing, and entertainment — or as targets. Similar to those who have grown up unaware of overt racist or sexist beliefs in their worldview, speciesism is so thoroughly assimilated in most of us that it is invisible and unquestioned.
Yet, in order to view other animals as biologically and cognitively unsophisticated, we have to ignore the scientific fact that other animals possess the same five physiological senses that we do, as well as the capacity for a wide range of emotions. In her introduction to The Inner World of Farm Animals (author Amy Hatkoff), Dr. Jane Goodall writes that "farm animals feel pleasure and sadness, excitement and resentment, depression, fear, and pain. They are far more aware and intelligent than we ever imagined … they are individuals in their own right."
And Dr. Temple Grandin, in Animals in Translation, writes that "When it comes to the basics of life … [other] animals feel the same way we do." She explains that both humans and other animals share the same core emotions of "rage, prey, chase, drive, fear, and curiosity/interest/anticipation," and the "four basic social emotions: sexual attraction and lust, separation distress, social attachment, and the happy emotions of play and roughhousing."
Although prominent philosophers, legal scholars, and scientists have criticized speciesist assumptions for many years, these questions have never before been the centerpiece of a film. Not only does Speciesism: The Movie ask these paradigm-challenging questions, it does so while taking viewers on an adventure that is tremendously entertaining and often laugh-out-loud funny. Devries' interview with a Nazi reminded me of the hoods scene in Django Unchained.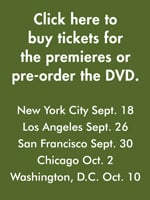 Along the way, Devries meets and questions a remarkably broad range of people, including Peter Singer (who The New Yorker named "the most influential philosopher alive"), Richard Dawkins (the most influential evolutionary biologist of the past century), Temple Grandin (designer of the animal-handling systems used by more than half of the slaughterhouses in the United States), factory farmers, anti-factory farm advocates, various other folks (including me!) on both sides of the issue, as well as people on the street.
For those unfamiliar with speciesism, there may be no more enjoyable introduction to this fascinating subject than Speciesism: The Movie. For those already familiar with the speciesism and searching for a way to introduce friends and family to the subject, Speciesism: The Movie may be a perfect overture.