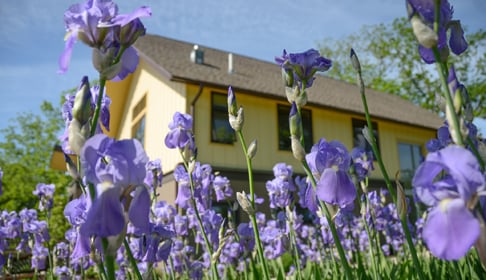 It's been a very long and a very cold winter at the New York Shelter, but a belated spring finally arrived. Here is a taste of springtime at the sanctuary!
Mud Everywhere!
A sudden abundance of mud was our first sign that spring had come. Besides slogging through the mud, we have plenty of clean-up work to do, from clearing sand off the roads to repairing gutters damaged by winter weather. It's hard work, but after five months of ice and snow, we hardly mind.
A Bright, Yellow Orb has Appeared in the Sky
This time of year, you'll catch shelter residents of all species (including human) standing outside, faces to the sun, just soaking up the warmth.
The chickens, in particular, are experts at basking, taking great pleasure in lying down and stretching out their wings to make the most of every ounce of sunshine. With the snow finally melted, the flock is also eager to dust-bathe, scratch in the dirt, and explore the entire sanctuary. You'll often find them under the bird feeders, hoping that one of their wild neighbors will knock some seeds to the ground.
Many Residents Are Sporting New Duds (or No Duds)
Spring means it's off with winter coats. Some animals, like the cattle, shed their fuzzy winter fur for sleeker summer coats. Others, including our very young and very old ruminants, no longer need the human-made jackets that helped them stay warm through the winter. The sheep started to get toasty in their thick wool, so spring shearing is a big relief for them.
And we've shed our coats, too — and our hats, and our gloves, and our insulated coveralls. For the first time in months, we're actually recognizable!
The Ground Is Suddenly Covered with a Mysterious Green Substance
It's been a while since we've seen grass, and many of our residents are absolutely thrilled to encounter it again. Our ruminants enjoy hay during the winter, but boy do they love getting out on fresh, green pasture.
Along with the grass, spring brought a profusion of wildflowers, including dandelions, a favorite of the sheep and goats.
Some Animals Are Really, Really Excited
Our pond freezes during the winter, which means no swimming for our waterfowl. By the time spring rolls around, they can barely wait to get back to the water. Few sights express the joy of the season so vividly as that of the ducks and geese returning to the water when their pond thaws at last. You can hear the joy, too, in the cacophony of honking and quacking as the flock members paddle, splash, and bathe to their hearts' content.
Springtime Joy is Contagious
You'll see a lot of running, spinning, and playing this time of year, even among our more "mature" residents. Just like us, the animals feel their hearts soar on these warm, sunny days of spring, and they just can't help kicking up their heels.