By Gene
Each year, we organize some special events at Farm Sanctuary to provide visitors with a deeper experience of our mission and our work. An integral part of our events lineup is our annual Country Hoe Down. The California Country Hoe Down is coming up this weekend, May 18–19, at our Orland, California, shelter. For folks in the East, we also will hold a Hoe Down at our sanctuary in Watkins Glen, New York, in August. These events are wonderful opportunities to spend time with rescued animals and commune with others who care about protecting animals and who are concerned about the effects of our industrialized food system.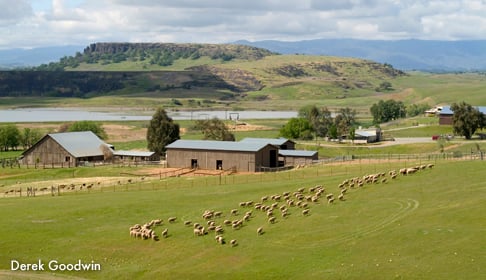 While vegan is the norm at Farm Sanctuary, everyone is welcome. Whether you are someone who is just becoming curious about farming and food, a new vegetarian, or a long-time vegan, the Hoe Down is a place to learn about the issues in a peaceful, supportive environment.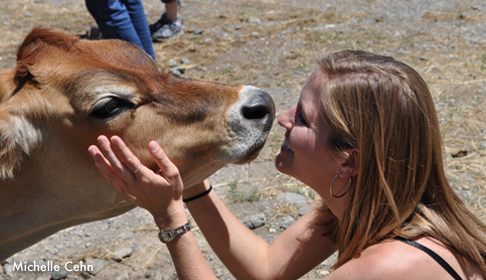 Our California Hoe Down will feature a number of inspiring presentations from Farm Sanctuary staff and others, including Linda Long, author of Virgin Vegan: The Meatless Guide to Pleasing Your Palate; Chef AJ; and Cindy Machado, Director of Animal Services at Marin Humane Society. There will be plenty time to ask questions, meet the speakers, and interact with other attendees and the rescued animals.
The animals who live at Farm Sanctuary come from the worst places imaginable, including factory farms where they are denied the most basic humane treatment. Some of our animals were found starving in abandoned farms or were rescued from disasters like floods and fires. Our animals are refugees of cruelty and neglect borne out of a system that sees living, feeling beings merely as commodities. When they arrive at Farm Sanctuary, these animals experience human kindness for the first time and live in peace. Now, they're waiting to meet you! During shelter time in Orland this weekend, Hoe Down attendees can spend some time with the ever-popular Melvin the goat; charming Albert the donkey; Lucas the loving pig; Joey the gentle lamb; and turkeys, cows, and chickens galore.
Everyone will enjoy delicious vegan meals and have a chance to kick up your heels at Saturday night's barn dance. Perhaps best of all, the Hoe Down is a wonderful time to mingle with a bunch of great folks — it's inspiring and a whole lot of fun — and, who knows, you may even strike up some new friendships. If you're the outdoorsy type, pack your sleeping bag and tent — the Hoe Down is one of the few times when camping is allowed on the farm, and it's a strikingly beautiful place to enjoy the open air.
We hear year after year from participants that the Country Hoe Down is the highlight of their summer, and that it leaves them rejuvenated and inspired.
Learn more about the California Country Hoe Down, May 18–19, 2013.