By Gene

The Vegetarian Society of Hawaii, with the support of Down to Earth™, a vegan-friendly health food store chain on the islands, recently welcomed me to their beautiful homeland. I spoke to several groups and attended events on Oahu and Maui. As I've seen in many other places, vegan awareness is thriving there!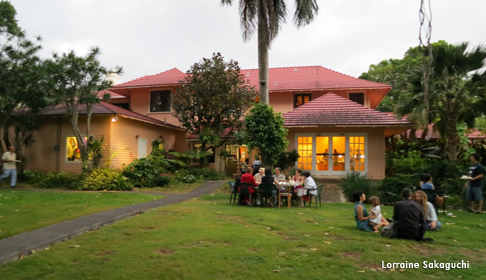 Sharing our message
Three events on three consecutive days drew strong attendance, and our message was magnified in news reports on two popular morning news programs with special segments promoting plant-based eating. One of these programs also included an interview with Justin Young, a talented musician and Farm Sanctuary supporter who performed at a Valentine's Eve benefit for Farm Sanctuary at Govinda's vegetarian restaurant in Honolulu.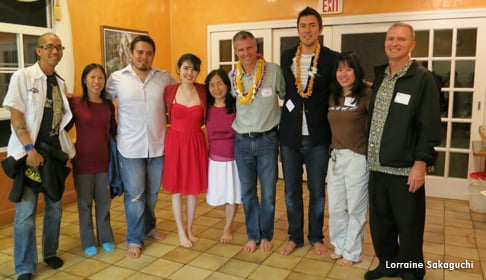 During my visit, I met Patricia Bragg (of Bragg Liquid Aminos), whose father, Paul Bragg, inspired the beginnings of Jack LaLanne's life-long devotion to encouraging fitness and nutritional eating, and Jay, a vegan athlete who ran the Honolulu marathon (26.2 miles) carrying an impressive 100-pound log to demonstrate both the endurance and strength that plant foods can support. I also saw old friends like Ruth Heidrich, a six-time ironman triathlon finisher who beat cancer on a plant-based diet, and Dr. Bill Harris, a former fighter pilot who founded the Vegetarian Society of Hawaii and who is keeping active into his 80s by parachuting out of planes, among his other pursuits! Members of Hawaii's vegetarian community are actively demonstrating the short- and long-term benefits of eating plants instead of animals.
Animal agriculture operates in Hawaii on a relatively small scale, with the exception of the Parker Ranch, one of the oldest and largest cattle ranches in the United States. It was established in the 1800s, alongside the whaling industry, and comprises roughly 250,000 acres. As on the mainland, Hawaii's animal agriculture industry also includes chickens exploited for egg production and pigs exploited for meat who are kept in cramped, filthy enclosures. Exploiting animals for commercial gain here presents animal welfare problems associated with shipping animals to and from the mainland. To contest these practices in Hawaii, members of the vegetarian society and animal activists are speaking out and demanding reforms.
Special opportunities
I especially enjoyed whale watching — from a bluff, not a boat — during my visit. Mothers and their babies swim, dive, and breach in the waters around Hawaii as part of their annual migration for birthing and mating. In the past, killing whales was a significant economic activity in Hawaii, but thankfully times have changed. A more humane and sustainable economy has now developed around watching and appreciating these whales.
During my time on Maui, I visited Leilani Farm Sanctuary. This shelter for abused animals shares a kindred spirit with Farm Sanctuary. Laurelee Blanchard, their director, is a dedicated animal advocate who I've known for many years. She moved to Hawaii in 1999 and now lives in the middle of her sanctuary, surrounded by rescued animals. We toured the grounds together and then enjoyed a tasty vegan meal prepared by Laurelee's boyfriend, Barry. It always delights and inspires me to spend time with other committed, passionate advocates.
All of these individuals who are supporting animal causes, choosing more plant-based diets, and speaking out on behalf of suffering animals show me that we can make a positive difference in our world. I just love watching our movement grow!