By Susie
It was a baby-boom summer at our New York Shelter! We frequently rescue young and even newborn animals. Less frequently, we have the opportunity to help deliver animals at the sanctuary when we rescue those who are already pregnant. In these cases, our caregivers face intensive prenatal rehabilitation efforts, sleepless nights keeping watch as the crucial moment approaches, high-risk deliveries, plenty of hard work to help new moms and babies in the early days… and great excitement as we watch new life begin to flourish and new families grow.

Julia and Her Babies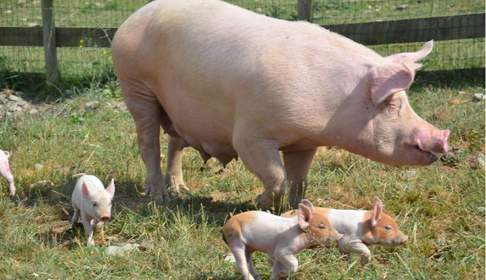 Just a five days before July 4, Farm Sanctuary's Emergency Rescue Team arrived at a factory pig farm where authorities were confiscating a pregnant breeding sow. The day before, a worker had brutally kicked, beaten, and shocked her as she screamed in pain. Settling her in our trailer, we saw the bruises and burns on her body — and profound fear in her eyes.
A mere eight hours after arriving at our New York Shelter, the sow, now named Julia, gave birth to 16 premature piglets. Our entire shelter staff leapt into action to provide the 24-hour, critical care these fragile babies needed to survive. Their mother, too, required weeks of careful treatment including fluids and treatment for mastitis. Although she still required medical care, her fear was clearly gone. The trust she immediately displayed for her new caregivers, and the patience and love she gave to her babies, have been an inspiration to us all.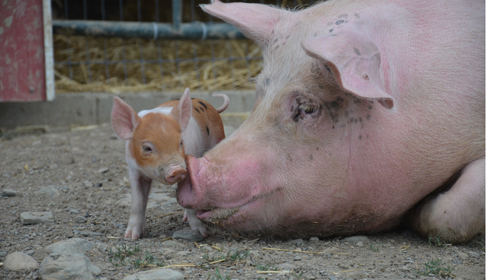 Today mom and babies are thriving. Dynamic duo Antonio and Bertha and best pals Gus and Ben have already found wonderful adoptive homes, and more adoptions are coming soon. With their new families, these piglets will be showered with attention and spend the rest of their lives in the company of their beloved siblings. Mom Julia is staying with us along with two of her piglets, Diane and Linus.

Oleander and Pappas
Earlier in the summer, we rescued seven emaciated cattle from a central New York property where they had been starving to death in a barren field. In adjacent barns, sheep, chickens, and a goat also languished in neglect, and nearby loomed a makeshift slaughterhouse. We rescued more than 60 animals from this grisly scene.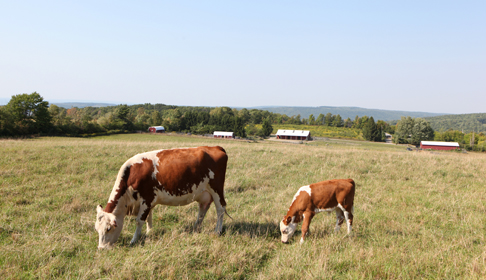 During physical exam, we quickly discovered that Oleander, one of the cows, had been struggling not only to survive but also to support new life. Neglect had placed both her and her unborn calf at risk, and we did all we could to nourish them both as the birth drew near.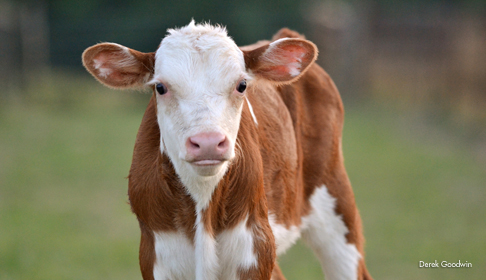 With vigilant care, Oleander gained sufficient strength to bring a healthy boy, Pappas, into the world. Her growing strength was accompanied by growing joy. The young mother and her son delight in each other, and Oleander is never far from her youngster's side. Recently, this little family has grown with the addition of a calf named Elijah, who has become a best friend to Pappas and a second son to Oleander.

Belinda & Elijah
The story of Elijah's mother, Belinda, exemplifies the maternal benevolence of cows, not only toward their own flesh and blood but also to other calves in need. Belinda was among the herd of rescued cattle that included Oleander. She too, already desperately depleted from starvation and nursing her calf Octavia, was carrying a new baby. She is also a very old cow, and it is likely that she was kept in a cycle or pregnancy for more than a decade before arriving at our shelter. By the time Belinda was rescued, her body had stopped producing milk in order to support her new pregnancy. Fortunately, herd mate Luna stepped in, allowing Octavia to nurse alongside her own calf, Orchid. This trio became inseparable, and after recuperating at our shelter, they have been adopted by Vine Sanctuary in Vermont.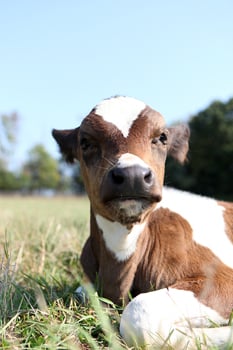 With the help of Luna and her new caregivers, Belinda was able to carry her baby to term. Mother and son's time together, however, was soon interrupted. Still weak from neglect and taxed from giving birth, Belinda fell gravely ill and was rushed to the hospital. Although he was sad to be away form his mother, Elijah was a trooper during her weeks of recovery and quickly took to the bottle.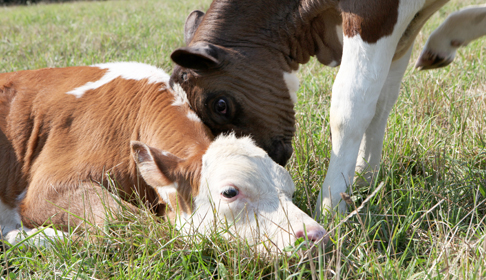 Finally after more than six weeks, Belinda was well enough to return to the shelter. Still weak and vulnerable to udder infection, however, she was in no condition to nurse. We tried fitting her with a special bra to prevent Elijah from trying to suckle, but his presence caused her to begin lactating again, and she immediately contracted mastitis. Knowing this could cost Belinda her life, we were forced to separate them. To lift his spirits, we introduced him to Pappas and his mother, Oleander. The two calves bonded instantly, and, within a few days, Oleander had fallen for Elijah as well, allowing him to nurse and becoming as protective of him as she is of Pappas.
Now Belinda can focus all of her energy on getting well. When she grows stronger, she will join other rescued cattle, make friends, and form new bonds. As Octavia and Elijah have done with their adoptive mothers and siblings, she will build a new family. That's part of the new life created by this baby boom: not only life beginning but also life beginning again.
Animals used in food production, from dairy cows and pigs to chickens and sheep, rarely have the opportunity to experience the mother–child bond – in fact, piglets, calves, and lambs most often are taken from their mothers soon after birth. Some, such as male dairy calves, are sold for cheap beef or simply left to die in agony. Others, like the parents they'll never know, become yet more "units" in our food-production system, processed for maximum growth at the expense of their health, their sanity, and their lives. This emotionally wrenching process is just one of the many hidden cruelties farm animal production.
Come meet these new families at our New York sanctuary and experience for yourself the remarkable love and devotion farm animals have for their young — or learn more about them online: The Mother and Calf Bond and Julia and Her Piglets.