By Susie Coston, National Shelter Director
A compassionate world begins with us. More than 9 billion farm animals are slaughtered each year in the U.S. alone. We wish we could rescue them all, but even with three sanctuaries, our space is limited. Thankfully, we also operate Farm Animal Adoption Network (FAAN), the highest quality farm-animal rescue and refuge network in North America. FAAN encompasses hundreds of individual adopters, as well as fellow rescue and shelter groups, and has a presence in nearly every U.S. state. Providing wonderful, secure, lifelong homes, the network allows us to make space at our shelters for new arrivals and also to undertake large-scale operations throughout the year. FAAN is an impressive example of what we can do when work together. Our FAAN members provide our animals with individualized care, seeing each as someone not something; a far cry from their treatment in the farms from where they are rescued.
Let's meet a couple of our fabulous FAAN members who recently welcomed new arrivals to their homes.
Meet the adopters: Vicki and family
Vicki and Jonathan Harkness, owners of plant nursery Perry Hill Farm, have been adopting rescued animals for over 21 years, including a group of sheep, a cow, and several chickens through Farm Sanctuary referrals, as well as multiple turkeys directly from our shelter.
In December 2014, the Harknesses adopted three more New York Shelter turkeys, rescued as poults from a factory farm. They surprised their son, Joshua, with the new arrivals, whom he declared "the best Christmas present ever!" Vicki says, "Joshua is amazing with all the animals on the farm. He has grown up with them."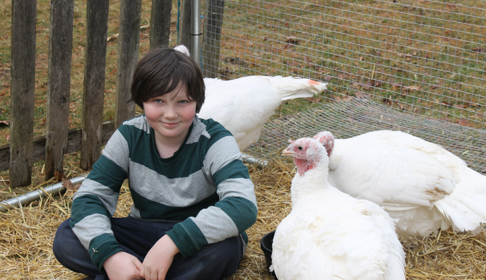 Sven, Jedidiah, and Amos have been enjoying their new home and following their new buddy everywhere. Vicki recalls looking out the window to see Joshua jumping on the family's trampoline — while his turkey entourage waited patiently on the sidelines for him to finish and rejoin them.
"Adopting animals has affected all of our emotions," says Vicki. "They make us laugh, feel love, they make us cry when they are sick, they make us get mad when they break down the fence and go on adventures, and then we end up laughing. When a cow gets into your house and has pooped all over your floor, all you can do is laugh!"
And the best thing about adopting rescued farm animals? "Seeing them happy, healthy, safe, and free."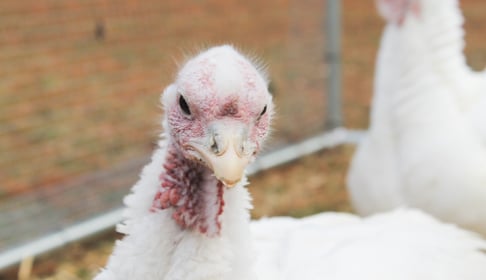 Meet the adopters: Molly and Lauren
Molly Merryman is a documentary filmmaker and an associate professor of Sociology at Kent State University, teaching courses primarily in the department's Victimology concentration. Lauren Vachon, who writes fiction and poetry, has an MFA in Creative Writing and teaches Intro to LGBT Studies at Kent State University.
One day last fall, Molly and Lauren saw an alert from Farm Sanctuary about our rescue of 87 chickens who had fallen off a transport truck onto the Staten Island Expressway.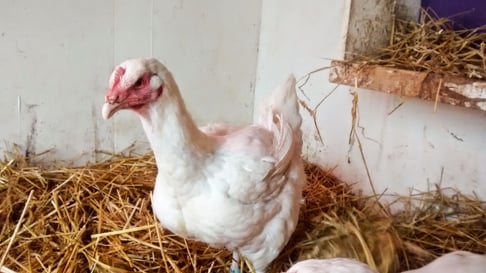 Wishing to do something for these birds, they reached out to us to adopt. Additionally, says Molly, "We live in a rural area where we see animal transport trucks regularly; we're always upset at the conditions of the transport of those animals. We wanted to do something positive."
Molly has been vegetarian for years, but at the time of the rescue, Lauren was still eating meat on rare occasions. When they talked about the possibility of adopting these birds, who would have slaughtered for meat if they hadn't fallen off the truck, Lauren finally officially became vegetarian. She says, "The way these chickens began their lives, and the way they were rescued, and the fact that we wanted to be their caretakers seemed incompatible with eating meat."
This January, they welcomed 12 of the Expressway hens to their 10-acre property in northeast Ohio. "The chickens are so fun and sweet and friendly!" says Molly. "We love how we can hold and pet them. We love how they come running as soon as they hear our footsteps. They are always so happy to see us." The hens are staying warm through the winter in a cozy coop built by Molly's dad. With wheels on the coop and a transportable enclosure, the hens will get to enjoy a moveable feast once the weather breaks, with their caregivers frequently shifting them to fresh patches of yard for foraging and exploring. This summer, the flock will get to investigate the garden.
Molly and Lauren are getting to know their new friends and have already encountered some stand-out personalities. Bitey, despite her namesake habit, is Lauren's favorite, because she's so curious; she's always the first to come see what the humans are doing. Another flock member is Curly, instantly recognizable by her curled toes. Molly and Lauren have kept a close eye on her to make sure she's getting around okay. Despite her slight deformity, "she does fine," says Molly, "and we've been delighted to see that she's one of the most persistent scratchers. She loves digging through the long grass underneath the coop."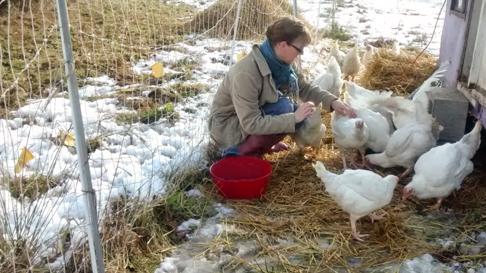 Lauren says the best thing about adopting the chickens is that she can't wait to get home from work to go feed them and spend time with them —"their happiness is contagious." Molly adds, "We both think it feels so good to know these hens have a rare second chance at a good and happy life, and that we're the ones providing it. Taking care of them is so satisfying."
Attention, Aspiring Adopters!
Interested in home adoption? Farm Sanctuary is always on the lookout for great adopters. We're happy to help you figure out what sort of adoption is right for you and what you need to do to get ready. Visit our adoption page for more info or to fill out an application.