By Kerrie Wooten*
Feeling the Love
At our most recent Celebration for the Turkeys in Orland, California, I was on the lookout for a certain guest who has been coming to our events for the past several years. At an earlier Farm Sanctuary event this summer, she told me that she had been photographing her daughter with Valentino every time they visited so she could look back and see her daughter growing up with her cherished friend. But Valentino, Farm Sanctuary's oldest steer, was now living with the special-needs herd, which wasn't part of our scheduled Celebration "shelter time," where guests visit with the animals. So I said I'd make sure that she and her daughter got their photograph with Valentino again this visit. She was so grateful she hugged me.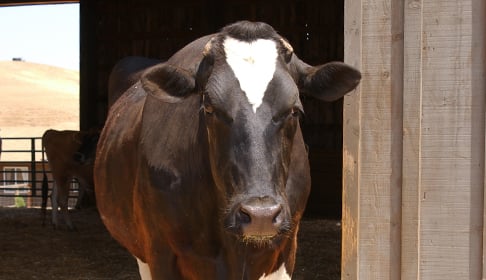 Later that day, I led the mother-daughter duo and some more of Valentino's biggest fans down to the lower pasture where he was standing, peacefully chewing his cud and drooling. At almost 20 years old, he didn't have a lot of his teeth left — thus the drool that sometimes hung from his mouth in long strands that swayed in the breeze. This was just part of his charm. Valentino carried out his days without a care in the world. Our party arrived at his pasture and showered attention on him, making this day extra special for all of them.
A Shelter Veteran
Valentino came to our Northern California Shelter long before any of the current caregivers did. It was Valentine's Day, 1994, the year after the shelter opened. He was only two weeks old, tiny, sick, and very weak. He had suffered damage to tendons in his front legs, which made walking painful for him. Physical therapy was important for Valentino's recovery, and caregivers worked with him as many as five times a day, gently walking him through the nearby pasture.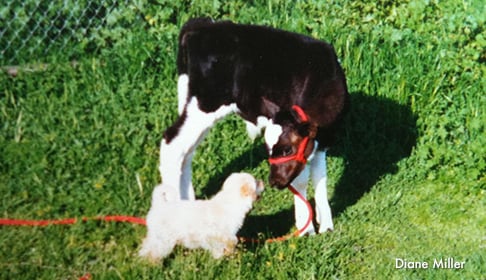 Diane Miller, the new farm manager at the time, recalls how her puppy Sunshine became involved in Valentino's healing, "helping out" during his therapy walks by pulling on his lead rope to encourage him along. "They played lots of this tug-o-war," says Diane. "Although they were both growing like weeds that spring, Valentino began winning these games more often as he grew stronger and heavier, and as his legs healed." Diane, Sunshine, and Valentino became best buddies, beginning each day with breakfast together and ending many evenings snuggling together in Valentino's stall.
A good Samaritan rescued Valentino — he was one of thousands of calves each year who are found down, injured, weak, and left for dead. Holsteins are common in the dairy industry, where producers keep cows lactating by subjecting them to a relentless cycle of impregnation, gestation, and birth. Female offspring often replace their mothers in the herd, but the male calves are considered useless. They are taken from their mothers immediately and typically auctioned off for cheap beef or veal, killed, or abandoned. Valentino's first weeks of life must have been miserable, but we made sure that his next nearly twenty years were wonderful.
I got to know Valentino in his middle and old age, when he was a gentle giant. A few years ago, when he started to show stiffness in his hind legs, we moved him to live with the special-needs herd. Arthritis and hip degeneration are common in elderly Holsteins, because they have been bred to grow so large that it puts a strain on their joints. Valentino lived with arthritis for years, but, with treatment, we were able to help him remain active. He still had fun with his buddies and had no trouble moving fast when he saw food coming. Sometimes when he got excited, he seemed like a goofy, young steer again.
Looking through old photos of Valentino, I see him with many different members of the herd. He was everybody's friend. In later years, he became particularly fond of spending time with his friend Joni, who is a mother figure in the special-needs herd. He was never more content than when Joni was grooming him. Life was sweet for Valentino, right up to the end.

Time to Say Goodbye
On the evening we discovered Valentino on the ground our hearts fell. The position he was in indicated an injury to his back legs and possibly to his spine. Due to his extreme old age and the fragility caused by arthritis, his leg had broken at the joint and probably caused him to fall, causing further injury. We called our vet immediately. He gave us the diagnosis that we already knew deep down — that the broken leg, compounded by his advanced age, the weakness of his other legs, and his hip degeneration, meant that his condition was irreparable. Shelter staff gathered around as the vet euthanized Valentino. He  slipped away peacefully, surrounded by loved ones.
Valentino's Memory
"No other single animal has done more to teach me the intrinsic beauty and value of each individual life, particularly those lives who are cast off as 'byproducts,'" says Diane. "Valentino triumphed over this bleak introduction to the world and grew into a legendary giant, in stature as well as pure heart, grace and love. Not a bad, rough, or mean bone had he…. as attested by the thousands of hearts he stole over his long years at the sanctuary."
The special needs herd has been subdued in the days following Valentino's passing, and the pasture feels empty without him. This benign, loving steer was a friend to many, and he truly epitomized the spirit of sanctuary. Valentino was a beloved part of this shelter for two decades. And he always will be.
View more photos of Valentino here:
*Kerrie Wooten is Animal Care Manager at Farm Sanctuary's Northern California Shelter. Kerrie has been a caregiver for Valentino and all of our other residents since 2006.