Last time, we sat down with Liz Marshall, director of The Ghosts in Our Machine to hear about her incredible film that examines the complicated, and often cruel, relationship humans have with non-human animals. Now, we take a behind-the-scenes look at the film with Farm Sanctuary's National Shelter Director Susie Coston and President and Co-founder Gene Baur.
The Ghosts in Our Machine is about to enjoy its theatrical release in the United States, starting in New York, November 8–14, at the Village East Cinema. On Saturday, November 9, we'll team up with the film for a Movie & Vegan Dinner night to benefit Farm Sanctuary. Following the evening screening, dinner will be held at Candle 79 and Candle Café West. Click here for more information.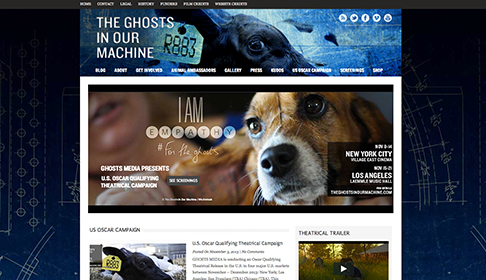 Los Angeles area screenings are scheduled for November 15–21, at Laemmle Theatre, Music Hall 3, in Beverly Hills. For more information and show locations, visit the film's website.
1. Do you think the timing of this film is significant? Is the public ready for a film like this?
Susie Coston: The timing is very significant. Issues of animal rights, veganism, and animal welfare are becoming mainstream, but we aren't at the tipping point yet. This film really illuminates these subjects in a way that is very palpable for mainstream audiences.
Gene Baur: Exactly. This film will play a role in furthering the public's opposition to the unconscionable and unnecessary abuse of billions of innocent creatures every year. The public is showing growing concerns about factory farming and other institutionalized abuses, and cruelty-free foods and products are increasingly available. Vegan businesses are rising up to meet the demand for compassionate alternatives, and that's an exciting development.
2. What moments in the film most struck a chord for you?
SC: I loved seeing the rescue of Fanny and Sonny because they are such a huge part of our lives at the New York Shelter, but what I found most incredible in the film is the range of exploitation portrayed — animals used in research facilities, in the fur trade, for entertainment, and, of course, animals used for food, who are exploited in staggering numbers.
GB: I was especially moved by the scenes with Jo-Anne writing somberly in the Farm Sanctuary Bed & Breakfast cabin, recalling the various painful events she has witnessed and documented. It's difficult to witness cruelty and violence knowing that you are unable to stop it immediately. You reflect, you regroup, and, armed with evidence, you set out refreshed to create change.
Susie, would you give us a glimpse into the behind-the-scenes process of filming and photographing the Farm Sanctuary animals portrayed in the movie?
SC: They don't allow cameras or even cell phones at the stockyard, so you don't see what took place inside. Sonny was down, meaning he couldn't walk or stand. I spent hours in the stockyard during this rescue and witnessed many abuses — I saw so much pain and fear. The first time I saw Fanny, she looked directly at me as she fell in the auction ring. These are the things that the industry doesn't want you to see.
Viewers may note the use of the word "it" in the film by the vets. When Sonny was being examined, they referred to him as "it," which gives the viewer an indication about how these animals are viewed as commodities. "It" allows someone to mentally disconnect and view an animal as a thing rather than as a complex being who is intelligent and emotional and who forms relationships with other animals and people. And they do! Fanny was so sick that first day, but as soon as she heard our voices when we arrived at the vets' to see her, she mooed. It was like a "thank you," as if she knew we were all connected now.
Fanny remembered Liz, too. On the last day of filming she licked Liz over and over, which is not a very "Fanny" thing to do. She's still very shy, but she really connected with Liz and Jo. Both of them got big smooches to prove it. Spending all those hours with Liz and her incredible team — everyone was so wonderful — was such an amazing time. And, Jo-Anne has been an important part of my life and life at Farm Sanctuary for many years. It was just such an honor to be a part of this project.
3. How does Liz's and Jo-Anne's work harmonize with Farm Sanctuary's efforts to introduce the public to individual animals as sentient beings?
SC: I think it's spot on. It's hard to relate to masses of animals exploited for food who number in the billions, but when you highlight any one of those animals, as Liz and Jo-Anne have done, you start to see who each animal is. Sonny was just one of about 300 calves sold that day. Fanny was one of about 200 "spent" dairy cows sold. And that is just one day of one year. The work that Liz and Jo-Anne have done with this film brings that point into public view.
GB: Liz and Jo-Anne get close to the animals and see them as unique individuals with personalities, just like we do at Farm Sanctuary. They also document how humans interact with other animals, in both positive and negative ways, and encourage people to consider what is ethically acceptable.
4. What are your hopes for this film?
SC: I hope millions of people see this film and make the connection between the individual animals featured and the many things we do every day that perpetuate widespread cruelty. The film is not overly graphic so it is likely to reach more people than it would otherwise. The film has a good balance. Just when you are ready to have a meltdown, you get to see the good again. You see the rescued animals at Farm Sanctuary who are loved and thriving. The film sheds light on the beauty and joy that is so evident in rescued farm animals, which most people never get to see. The film also shows how animals should be treated.
GB: My hope is that, after seeing this film, people will think about the "ghosts" who are living, suffering, and dying in our midst to satisfy human whims. And, I hope this new awareness will prompt people to adjust their behaviors to prevent these atrocities. Animals used for food production are abused in staggering numbers and in ways most people would not condone. I am very grateful that The Ghosts in Our Machine addresses this topic. We humans make choices every day about our food, our clothes, our entertainment … often without much thought. Yet these choices have a profound impact on other animals, even when the consequences are hidden from our view. These choices and consequences define whether we have compassionate or abusive relationships with other animals.