By Susie
Teresa was already living at Farm Sanctuary's New York Shelter when I started working here more than a decade ago — but I met her even before that. Our first encounter was in the summer of 1998, during a rescue I'll never forget.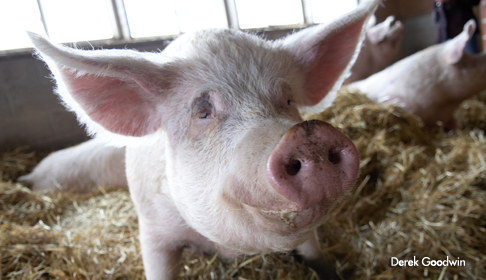 We Met Under Terrible Circumstances
Back then, I was working at another sanctuary, and we received an emergency call to help with a large number of confiscated animals (you can read the full story here). A driver transporting 167 pigs from a North Carolina factory farm to a Pennsylvania slaughterhouse abandoned his vehicle on a street in Washington, D.C. It was a hot day, and the pigs were trapped in an intensely crowded metal trailer with no water. They could easily have died there, but, luckily, some neighbors called the police. The Washington Humane Society seized the trailer, and, shortly after midnight, it arrived at Poplar Springs Animal Sanctuary in Maryland.
Freedom to Live a Pig's Life
It took us over 24 hours to get the pigs off the trailer, which was three stories high and had no ramps. A local horse rescue group built wooden ramps to help the frightened animals down. Seeing those pigs as they struggled out of that awful trailer was the hardest thing I'd ever done at the time. They were all overweight. They were so weak and suffering from joint pain that they walked on their knees. As soon as they reached the ground, they started eating dirt — something they had never seen before. These six-month-old pigs were born in a factory farm warehouse and spent their entire lives indoors. They didn't know how to drink out of water tubs. They never had any sort of bedding, but, on the first night after their rescue, they made big, soft beds for themselves out of straw. This was the beginning of the life they were meant to live! Since birth, they were unable to do the things pigs love to do — but deep down they knew how.
Among the many natural behaviors that are thwarted in the lives of factory farm pigs is the formation of functional social structures. Pigs are crowded together so tightly that they can barely move, much less give each other space or form friendships. This is intensely frustrating for them because pigs are social, and they crave close friendships. After her rescue, Teresa took full advantage of the opportunity to do just that.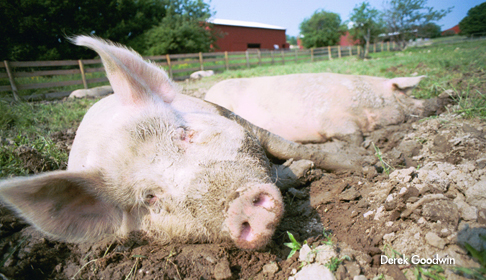 Bosom Buddies
Teresa was one of the 40 pigs from the D.C. rescue who found a home at our shelter in Watkins Glen, New York. During her long time with us, she had several "best" friends from among that group. Her first and very best friend was Howard. They always slept face-to-face, and I often found them chatting up a storm first thing in the morning and right before they went to sleep at night. Both pigs were very friendly and enjoyed company, but they loved each other most of all. When we lost Howard to liver failure, Teresa was devastated and became very depressed.
New best buddies helped her heal. She developed close friendships with Kari, Nancy, and Dale. Other than Teresa, Dale lived the longest of any of the pigs from their rescue. In their old age, they lived together in our retirement barn. Two years ago, however, Dale passed away. One by one, Teresa's friends succumbed to the ailments that beset domestic pigs, even those who receive diligent care. Now she was the only one left. I could tell this was hard for her.
Teresa in Love
Around the time Teresa lost Dale, a pig named Harry lost his elderly mother, Hazel, to cancer. Like Teresa, he was lonely. He mourned deeply, and we worried for him. We have seen pigs shut down for weeks, not wanting food and not attempting to get up and be active. Pigs don't always appreciate new roommates, but when we introduced Harry and Teresa, and these two hit it off at once, and they became a great comfort to each other. They enjoyed the same things: eating, sleeping, mud- and sun-bathing, and more sleeping (spooning each other of course). It was love. They reminded us of an old married couple, and they reminded each other how sweet life can be.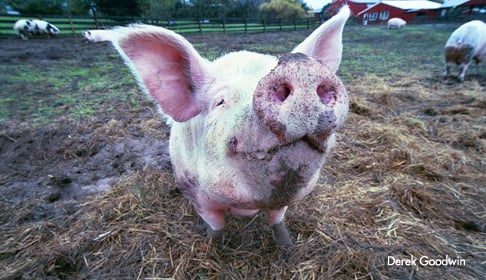 The Circle of Life
Life was sweet for Teresa, despite her health problems. She survived uterine cancer and lived the last five years of her life with mammary cancer, which remained in remission. Like all domestic pigs, however, her body was distorted by industrial breeding practices that cause pigs to grow to unsustainable sizes even on restricted diets, predisposing her to joint ailments. As she aged, she began to experience severe arthritis in her front legs, and, despite our care and treatment, the condition slowly worsened. Late this autumn, it became so severe that nothing we could do eased her pain. We knew it was time to help her to a peaceful end.
Over her many years, Teresa loved and lost and mourned dear friends, but she was always ready to open her heart to new ones. Now it is our turn to mourn Teresa and also, like her, to find comfort in being there for others. We are looking for a new partner for Harry, who misses his friend. In this way we honor an amazing pig who lived an incredible life, one I wish every pig could have.