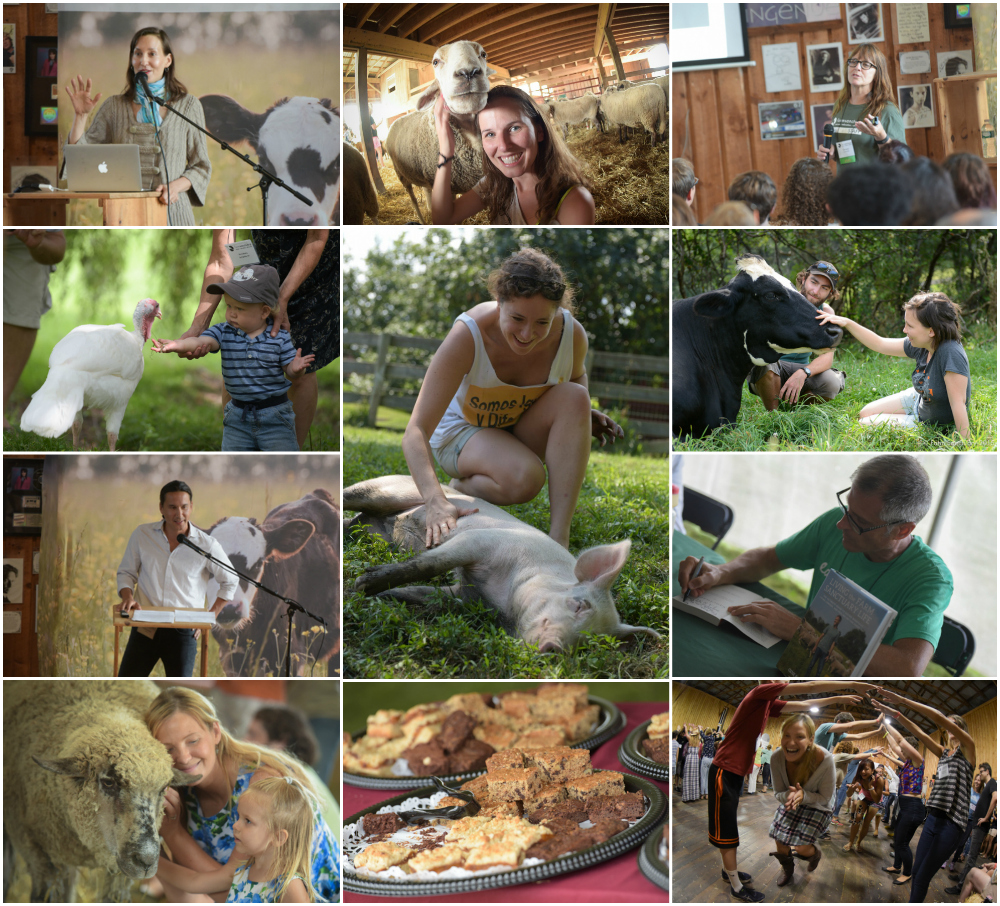 On August 15 and 16, hundreds of animal advocates converged on Farm Sanctuary's Watkins Glen shelter for our 2015 Hoe Down. The Hoe Down holds an important place in Farm Sanctuary's nearly 30-year history, and we think this year's event was our best yet!
Our speakers focused on topics ranging from effective advocacy to humane education to the lives of Farm Sanctuary's rescued residents. A major theme: We're winning! More and more people are becoming educated about the abuses farm animals face, and many of them are making changes to their diets in response. The change is visible. And the industries that profit from animal abuse know it!
Below, view videos of each presentation from the weekend, as well as our Hoe Down Speakers Round Table discussion about where the animal protection movement is headed. (Note to viewers: You will hear cheeping! The speakers' presentations took place not far from the roosting spots of some of our resident rescued birds.)
Gene Baur
"[T]o me, being vegan is really an aspiration to live as kindly as possible."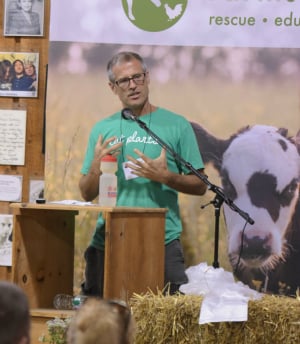 Gene, Farm Sanctuary's co-founder and president, has been called "the conscience of the food movement" by TIME magazine. For 25 years, he has traveled extensively, campaigning to raise awareness about the abuses inflicted by industrialized factory farming and our cheap food system.
His latest book, Living the Farm Sanctuary Life: The Ultimate Guide to Eating Mindfully, Living Longer, and Feeling Better Every Day, delivers five tenets for maintaining and sharing a compassionate, vegan life. His previous best-seller, Farm Sanctuary: Changing Hearts and Minds About Animals and Food, was published in 2008.
Watch Gene's presentation, Living the Farm Sanctuary Life:
Learn more about Gene's work by following him on Facebook, Twitter, and Instagram, and learn about his upcoming speaking engagements here.
Susie Coston
On Hazelton, Reuben, and Summer, lambs born at Farm Sanctuary after their mothers were rescued: "[T]his is one of the most beautiful things, is to have babies born on the shelter — because A) they've never been scared, ever. B) They're always with their moms and their families. So these animals are going to have a good life."
As Farm Sanctuary's national shelter director, Susie is deeply involved with every aspect of our rescued residents' lives. She has dedicated more than 20 years of her career to working with animals and making their lives better, and she's known for her special ability to bring their stories of love, loss, and life to the public.
She is also a mentor to many of her peers — some of whom have started their own sanctuaries throughout the U.S.
Watch Susie's presentation, The Animals who Call Farm Sanctuary Home:
Want to know more about Susie's work? Follow her on Facebook, Twitter, and Instagram; read her insights into working with animals and the future of the animal protection movement; and hear her interviewed on NPR affiliate WSKG.
Bruce Friedrich
"[E]ach conversation that you have with somebody who's not vegetarian or vegan is an opportunity to do massive good in the world."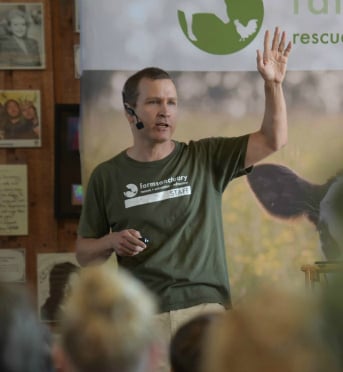 Friedrich, the executive director of the Good Food Institute, is a popular speaker on issues of animal rights and effective advocacy who has appeared numerous times on CNN, Fox News and MSNBC.
Prior to joining the Good Food Institute, he was Farm Sanctuary's director of advocacy and policy; spent 15 years at PETA, where he was vice president for campaigns; and also worked for two years as a public school teacher in inner-city Baltimore (where he was his school's Teacher of the Year) and for six years at a homeless shelter and soup kitchen in Washington, D.C.
Watch Friedrich's presentation, Effective Advocacy: Stealing from the Corporate Playbook:
To learn more about Friedrich's work, follow him on Facebook and Twitter and read his writings in The Huffington Post.
Wayne Hsiung, J.D.
"All of these places that we call farms — they're not farms. They're prisons where every single inmate is on death row."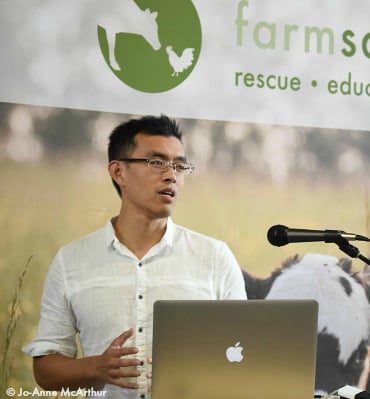 Hsiung is co-founder of the global animal rights network Direct Action Everywhere (DxE) and lead investigator in the DxE Open Rescue Network. His work — including the rescue of a distressed hen named Mei Hua from a California egg farm — has been reported on in The New York Times and Mother Jones, and he organizes grassroots campaigns that have mobilized activists in more than 110 cities and 20 countries. Prior to co-founding DxE, Hsiung studied behavioral economics as a NSF Graduate Fellow at MIT, taught at Northwestern School of Law (where he co-authored research with Harvard's Cass Sunstein on the impact of climate change on animals), and practiced securities law at two national law firms while maintaining a pro bono animal practice.
Watch Hsiung's presentation, From Corporate Law to Climbing Barbed Wire:
To learn more about Hsiung's work, follow him on Facebook and Twitter.
Melanie Joy, Ph.D., Ed.M
"When it comes to animal agriculture, when it comes to animal exploitation, the world needs more emotion, not less."
Dr. Joy is a Harvard-educated psychologist; a professor of psychology and sociology at the University of Massachusetts, Boston; a celebrated speaker; and an acclaimed author on animal protection issues. Her doctoral research on the psychology of eating meat revealed that individual attitudes and behaviors toward animals were influenced by a widespread social belief system that was invisible and unnamed. She coined the term carnism.
Dr. Joy is a recipient of the Institute of Jainology's Ahimsa Award, which has also been awarded to Nelson Mandela and the Dalai Lama. Her work has been featured by numerous media outlets, including the BBC, NPR, PBS, and The New York Times, and she has given her acclaimed carnism presentation on five continents.
Watch Dr. Joy's presentation, Speaking Truth to Power: Being an Empowered Vegan in an Animal-Eating Culture:
To learn more about Dr. Joy's work, visit her organization Beyond Carnism's website; follow her on Facebook; and read her books Why We Love Dogs, Eat Pigs, and Wear Cows and Strategic Action for Animals.
Lorena Mucke
"…I try to see each individual student as a human with a capacity to act with compassion, with integrity, and with decency. And when [students] see that, I think they are more able to embrace it."
Mucke, a pioneer in the field of humane education, started the Atlanta-based Ethical Choices Program, a non-profit project of the Justice for Animals Fund.
Through this innovative program, Mucke currently gives about 250 presentations every year at high schools in the Atlanta metro area. She has educated thousands of teenagers about the egregious cruelty inherent to the animal agriculture industry and the devastation the industry causes to the environment and to human health. Her program promotes respect and consideration for oneself and other living creatures by encouraging students to develop humane qualities such as compassion, sense of justice, and integrity. Students learn the countless benefits of adopting a plant-based diet as well as tools to be advocates of change in their schools and communities.
Watch Mucke's presentation, Humane Education: Powerful Activism in the Classroom:
Learn more about Mucke's work by visiting the Ethical Choices Program website.
Resources
For animal-friendly recipes, shopping tips, and more, visit V-Lish. Learn more about the intelligence and complex emotional lives of farm animals and spread the word that they are each someone, not something! If you'd like to be a part of Farm Sanctuary's work on behalf of farm animals, please consider becoming a member or sponsoring one or more of our rescued residents through our Adopt a Farm Animal program.
Want to attend a future Hoe Down, or another Farm Sanctuary event? Check our Events page or join our community and sign up for email updates. You can also visit our sanctuaries and meet our residents; learn more about our tours. See photos and videos of our residents and learn more about our work by liking us on Facebook, following us on Twitter, subscribing to our YouTube channel and following us on Instagram.