By Susie Coston, National Shelter Director
During our 28 years in operation, Farm Sanctuary has not only provided lifelong sanctuary for thousands of rescued animals but also brought thousands more to loving adoptive homes through our rescue and refuge network. That number includes more than 200 pigs who we've transported to private homes and other sanctuaries. This winter, six more made the journey toward their new lives.
A Place for Every Pig
We met these pigs in August at Bob Comis' farm in Upstate New York. After years of raising pigs for meat, Bob became uncomfortable with killing pigs for a living and decided that exploiting animals for food did not align with his values. He is now in the process of turning his pig farm into a vegetable farm. In the meantime, however, he had a small herd of pigs with special needs he could not address adequately at his property.
Initially, we took in a very sick pig named Gus and his best friend, Roxy, these two will live at our New York Shelter for the rest of their lives. Since we did not have space for the others at the time, we reached out to fellow rescue groups in our network to find fantastic homes for these pigs. Florida's Rooterville offered a home to four of the pigs and Upstate New York's Catskill Animal Sanctuary stepped in for the remaining two. Both sanctuaries have adopted several rescued animals from us over the years, and we were excited that they were able to welcome these newcomers to their herds.
Ready, Set …
Once placement was secured, we picked up the pigs from Bob's farm and brought them to Cornell University Hospital for Animals to receive check-ups and prepare for their trips. All of the female pigs were spayed, a measure that substantially lowers their risk of reproductive tract cancer. (The male pigs were already neutered, farmers neuter male pigs when they are a few days old).
The pigs who were showing signs of arthritis also received radiographs, which revealed that two of them already have severe arthritis in their hips, even though they are under a year old and still growing. These two will need lifelong pain management. We determined they should go to Rooterville, where the soil is sandy which is great for sore hips and joints and the weather is warm; compared to the frigid Upstate NY temperatures.
Go!
Finally, all the pigs were cleared for travel, the paperwork was in order, and the shelters were ready to receive their new residents. First came the trip to Florida. Three members of our New York Shelter staff accompanied the pigs, driving in shifts so that they could make the 16-hour trip in one day. The trailer was set up like a mobile bedroom, with lots of straw for the pigs to make nests for sleeping during the drive. The transporters stopped twice to give the pigs their meals and multiple times to give them water and clean out soiled straw. When the transport arrived at Rooterville, the transporters helped unload their passengers and then turned around and drove right back to the shelter. They were troopers!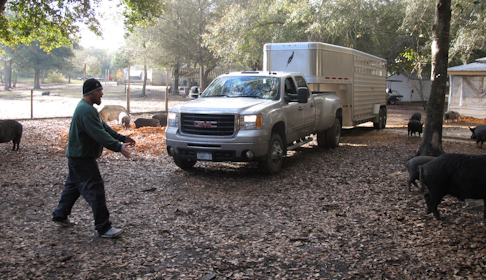 Next came the trip to Catskill. Though it was a much shorter drive, staff once again made sure that the pigs were as comfortable as possible. Even as they rode through the frigid weather of a New York December, the pair were cozy in their trailer/sleeper car. Upon arrival at Catskill, the two were welcomed into their new digs: a former horse field that staff had converted into a pig habitat just for them, remodeling the run-in shed into a cozy pig barn. Our friendly transporter (and farm manager), Mario, made such an impression on the welcoming committee that they named one of the pigs after him. The other they named Audrey.
All the Way Home
These special-needs friends may need a little more care and accommodation than your average pig, but they're just as playful, curious, and full of fun. And they've been having a blast at their new homes.
The long drive to Florida was clearly worth it for the four pigs who now call Rooterville home. Even the two with severe arthritis are flourishing. The warm weather down south is easier on their joints than harsh Northeast winters, and the sandy soil of the Rooterville grounds is gentle on their legs and feet. Additionally, Rooterville staff have extensive pig experience; pigs being their main residents.
Also in good hands are the two pigs who stayed nearby. Says Catskill Farm Manager Kathy Keefe of Mario and Audrey: "They are doing very well, arguing with their neighboring pigs but settling in just fine. Mario is bold and fairly demanding of attention, mostly in the form of scratches and belly rubs. Audrey is more delicate and polite but enjoys the physical attention just as much." She adds, "They are a joy to watch as they gallop across the field to see whoever comes by to visit or, even better, to feed."
While they are reveling in all the joys of pighood, these porcine ambassadors are also helping to teach visitors to their new homes that pigs are individuals, with all the intelligence, sensitivity, and social facility as dogs and cats. In this way, one rescue of six pigs can galvanize changes that help millions.
Web of Hope
Even on small, non-industrialized farms, animals do not receive individualized care, and many are left with untreated and undiagnosed conditions. Over the almost 30 years of our operation, Farm Sanctuary has worked with vets and other experts to treat rescued farm animals and give them the care they have never had but so deserve. Every animal who comes to us is treated like a member of the family, and all their needs are met; their individuality is taken into consideration at every step, from the initial care they receive to the homes that ultimately welcome them. Today, we run the largest rescue and refuge network in North America and are able to respond with efficacy and assurance when an animal needs us. We are grateful for the opportunity to give these creatures better lives; for the wonderful sanctuaries, rescuers, and adopters who collaborate with us in this work; and for the animals themselves, who share with us so much joy at the simple gift of coming home
The more our adoption network grows, the more animals we can help. If you are interested in providing a lifelong home for two or more rescued farm animals of any species, please check out our Farm Animal Adoption Network (FAAN)