By Susie
At almost 6:00 a.m. on September 5, I stood on the tarmac of Elmira Corning Regional Airport with 17 Farm Sanctuary staff members and volunteers waiting for a cargo plane to land. 1,150 rescued hens who had just traveled nearly 3,000 miles were inside. As soon as the plane safely landed, we sprang into action.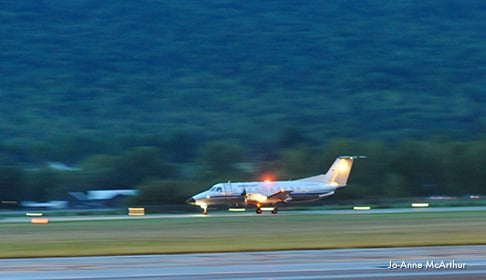 We had been preparing for this moment since mid-August, when Animal Place, a rescue organization in Grass Valley, California, contacted us. They were set to save 3,000 hens scheduled to be gassed to death at an egg factory. All chickens used in industrial egg production are gassed or slaughtered once their productivity declines, typically at about two years old. These particular birds had been kept in battery cages, the most common egg production method in the United States and the system for confining more than 250 million hens each year. Their cages were housed in giant sheds and stacked several rows high. Inside, the hens were crowded together so tightly that they couldn't even stretch a wing. They were forced to stand and lie on wire floors without relief. Feces from the hens above fell upon them constantly. The air they breathed was thick with dust and ammonia. Every day was a torment. Now, though, relief was finally in sight for these few hens.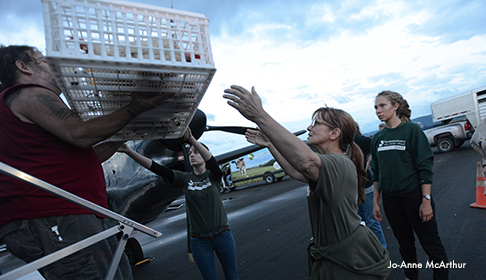 An anonymous donor, who paid for the birds to be flown from the west coast to the east coast, made this transport possible. Chickens who have been used for egg production are very fragile, so we were anxious about them making such a long trip. Considering the loading of the birds into crates, the trip to the airport from their original location, the flight time, and then the unloading and driving to our Watkins Glen Sanctuary, the birds spent well over 16 hours in transit. They were exhausted and in need of fresh food and water. Because they traveled in a cargo plane, the hens could not be viewed during the flight, and we were concerned as we waited to see them. As soon as we could reach them, we were delighted to learn that all had survived the trip, and we carefully removed each crate from the plane and loaded the hens into trailers and our transport van.
To Sanctuary
We rushed the birds to our New York Shelter, where we had converted a building into a barn for the main flock and made space in our Rescue and Rehabilitation Barn for any hens who needed special care. We had lots of fresh, cold water and plenty of food waiting for the hens, and many drank and ate as soon as we released them into the barns. Others, who were weak from the transport and clearly more dehydrated, were given fluids to help them recover from the flight. As the hens settled in, we got to work checking each individual bird to identify who would require special care.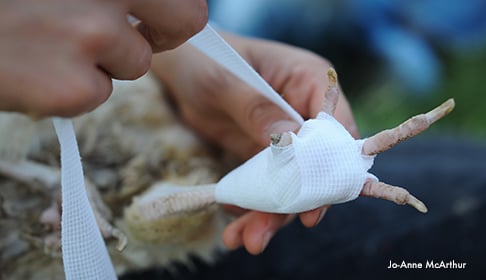 The evidence of the hens' ordeal in industrial production was everywhere: lice infestations, respiratory ailments, prolapses from laying so many large eggs, impacted oviducts, peritoneal fluids, pus filled cysts, bumble foot infections, and mangled toes, which probably occurred when their extremely long nails became caught in the cage wire. It is so painful to think of these chickens, not only miserably crowded and frustrated, but also suffering for weeks or months with these painful, untreated ailments as parasites crawled all over their bodies. Sadly, these health problems are common in chickens at industrial egg farms, where individual attention is unheard of. One-hundred-and-fifty birds were identified with health issues requiring special treatment that would prohibit them from traveling to other sanctuaries right away.
On the road again
We spent a very long first day performing examinations, treating injuries, dusting for lice, and trimming extremely overgrown nails. At 4:30 the next morning, a team from Happy Trails Farm Animal Sanctuary in Ohio arrived to pick up 240 hens who were healthy enough for travel. The day before, we had marked the birds to identify them easily in the sea of white feathers so they could be loaded into travel crates with minimal stress. Next, a team from Michigan sanctuary SASHA Farm came to pick up 100 of the girls, who were also marked to ensure the correct birds went to the correct shelters. Once these transports were off, the health checks, medical treatments, and trimmings continued for the remaining birds.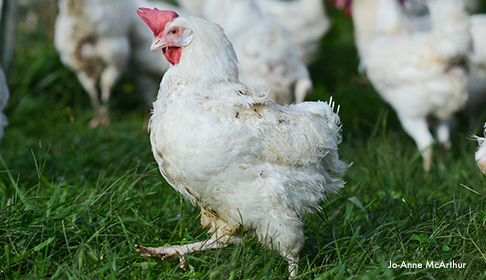 On day 3, Mike Stura (who rescued our friend Michael) arrived to pick up 400 hens who were headed to upstate New York's Catskill Animal Sanctuary and Woodstock Farm Animal Sanctuary. Then, it was time for more examinations and health care. By this time, we caretakers were stiff, sore, and exhausted, but, I can tell you: there is nothing more rewarding to us than seeing how happy these hens are to be safe and comfortable at last.
We worked to prepare more hens to make the trip to new homes at the Humane Society of Greater Rochester's Lollypop Farm, Virginia sanctuary United Poultry Concerns, Vermont sanctuary VINE, and Coming Home Sanctuary of Ithaca, New York, as well as to adoptive homes in several states. About 200 hens who need additional vet care and treatment will remain here with us.
Throughout all of the transport and health care and through every loading and unloading involved in this massive rescue, Farm Sanctuary staff members and volunteers have worked with amazing diligence, efficiency, and care. In addition to those who worked directly with the chickens, our remaining staff members continued the work of caring for more than 500 other individual animals living at our shelter. They kept normal operations running smoothly, providing the same level of expert care they always do. I am so thankful for our wonderful team. I am also grateful for the award-winning photojournalist Jo-Anne McArthur who was with us every step of the rescue to capture the hens' amazing journey.
Just this week, the state vet came out to perform blood tests on those birds traveling to Virginia. Our health-care team drew blood on 50 of the hens who were banded with official state leg bands for legal entry into that state. These birds will be going to United Poultry Concerns, before the end of September, we hope. Twenty more hens were re-tested as well and will be heading to VINE Sanctuary in Vermont today.
A hopeful future
We continue to pay close attention to the hens here as they are rehabilitated. It is incredible to see their personalities emerge now that they feel safe and well enough to relax. I'm getting to know more and more of these wonderful characters as I work with them every day. Each of these hens is a unique individual. Each one has survived so much and still has so much living left to do. It's almost inconceivable that any one of their lives could be thoughtlessly extinguished.
Yet millions of chickens were killed the very day that these girls made it to sanctuary, and millions more continue to be added to a system filled with suffering. For every bird who was saved as part of this rescue, another is born to take her place in production. Our job now is to ensure that people learn about how wonderful each individual bird is so that they are inspired to change their eating habits. And when that happens, hens who lay eggs will truly be free.
Our rescued hens are ambassadors now, and I have so much hope for the lives they will live and the people they will inspire here at Farm Sanctuary and at all the other sanctuaries, shelters, and homes that have welcomed them.