"Now cracks a noble heart. Good-night, sweet prince;
And flights of angels sing thee to thy rest."
―William Shakespeare, Hamlet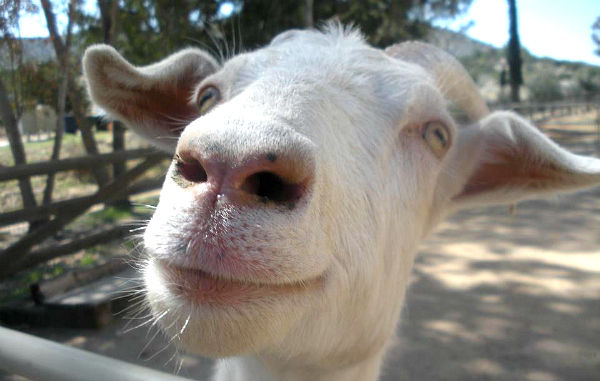 By Alexandra Caswell, Acton Shelter Manager
He was typically the first resident to greet you. No matter how hot the day or how harried the Los Angeles freeway traffic, you would be hard-pressed to enter the hacienda-style gates of our Southern California Shelter without stopping to admire, photograph, and approach the ever-charming and always regal Prince.
He thoroughly enjoyed the attention, of course. One of the most outgoing and friendliest goats of his herd, Prince relished human companionship. He loved Sunday tours and was especially patient with children, standing completely still while they threw their arms around him and gently touched his floppy ears and long horns. He even let children inspect his teeth! He was an exemplary ambassador for farm animals.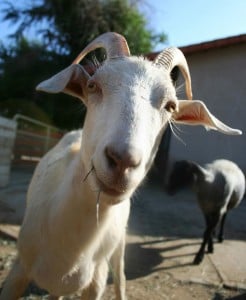 Prince was not only adored by visitors but also deeply loved by shelter staff. Every day he would open the gate for caregivers at feeding time (sometimes letting his herd mates out!). He knew his name and would come running when a caregiver called him, especially if they had his favorite treats (strawberries, bananas and molasses). He loved the sun and spent most of his days on his big hillside, playing and soaking in the rays. His was a blissful existence.
But recent months were hard on our friend. Prince had caprine arthritic encephalitis (CAE), an incurable retrovirus that is transmitted to newborn goats through their mother's milk. He was diagnosed in 2013. There is no cure for CAE, but we immediately started Prince on immune-supportive supplements, and eventually pain medications, to give him a fighting chance at a longer, more comfortable life. All of his medications and supplements were hidden in his favorite treats, and he would run up to us enthusiastically when it was treatment time.
Sadly, the CAE advanced much faster than we had expected, rapidly taking its toll on Prince's knee joints over the last year. In the end, he lost the use of his left leg, and his pain became untreatable. Wishing to spare our friend any suffering, we made the heart-wrenching decision to say goodbye.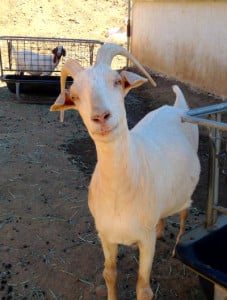 It was only four years ago that we said hello to Prince. Police officers who pulled over a car for speeding found the two-week-old Saanen stuffed in a bag inside. Prince was seized and brought to the San Gabriel Valley Humane Society. From there we welcomed him to the shelter.
Just as that tiny young goat was gently carried in his new caregivers' arms when he arrived, so was he surrounded and held by his caregivers as our vet gently released him through euthanasia. Prince was unafraid and left us calmly. He will be missed every day, and our very short time with him will be cherished always.
We have so many stories of caring for and befriending this sweetheart. And we know so many of you do, too. Please share your thoughts and memories of Prince in the comments below.
After all, Prince was someone, not something.